SMS alert
The SMS-ALERT service is designed to notify cardholders about the transactions performed with payment cards issued by JSCB "EuroCreditBank" by SMS short messages on mobile phone and / or e-mail messages.
This service notifies the cardholder concerning the transactions made ​​with the card, namely:
- cash withdrawal
- paid services
- paid merchandise
- nonfinancial transactions (account balance view, mini-statement)
- failed attempts to perform a transaction (the reason code - insufficient funds, placing the wrong PIN code).
For convenience we recommend you to check in the option -available amount,in order to receive notification messages about your card account status.
This service allows the cardholder to act immediately in case the transaction is performed by third parties or without the consent of the cardholder. (For example: when receiving SMS messages about attempts to pay the service / product on the Internet, that was not requested by you, be aware to call the bank cards customer support at (022) 500-220 (24/24, 7/7) and block the card).
You can subscribe this service by accessing the internet banking system - Telebank.md.
Steps for registrations at SMS-ALERT:
1.
2.
3.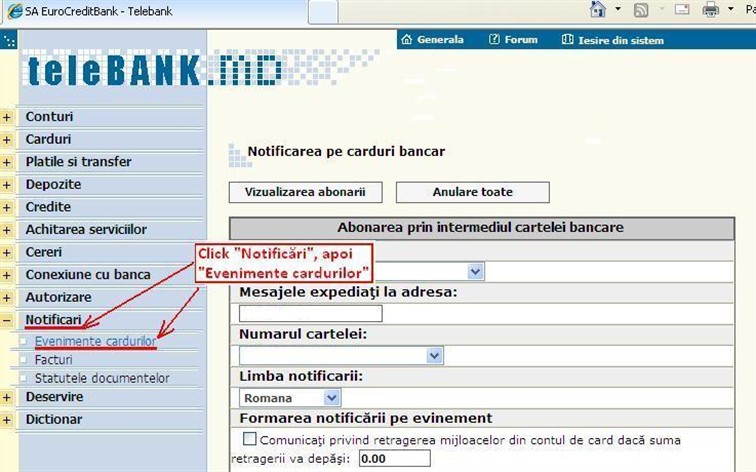 4.